Connected and Automated Vehicles (CAVs)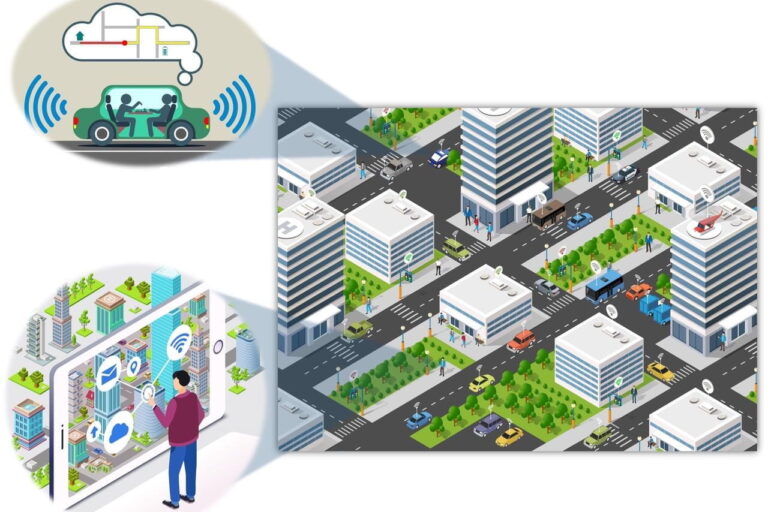 Connected and automated vehicles (CAVs) provide the most intriguing opportunity for enabling users (including individual vehicles and traffic control centers) to better monitor transportation network conditions and make better operating decisions to improve safety and reduce pollution, energy consumption, and travel delays. Many stakeholders intuitively see the benefits of multiscale vehicle control systems and have started to develop business cases for their respective domains, including the automotive and insurance industries, government and service providers. It seems clear that the availability of vehicle-to-vehicle communication has the potential to reduce traffic accidents and ease congestion by enabling vehicles to more rapidly account for changes in their mutual environment. Likewise, vehicle-to-infrastructure communication, e.g., communication with traffic structures, nearby buildings, and traffic lights, should allow for individual vehicle control systems to account for unpredictable changes in local infrastructure.
In a rapidly urbanizing world, we need to make fundamental transformations in how we use and access transportation. This starts with the observation that the purpose of a transportation system is not mobility but rather accessibility to goods, services, and activities. Mobility is only an unintended outcome of our accessibility needs and may be viewed as an intermediate service (the means) on the way to what we really want: access. Today's private vehicle mobility paradigm often requires dedicated parking, a need which may fade in shared mobility systems such as car share or ride share. Such systems also become more viable in dense, high demand regions, because the downtime between trips is small and overlapping trips can be shared. Distinguishing between mobility and accessibility is essential in determining the policy issues that need to be resolved and which are closely related to land-use decisions.
We are currently witnessing an increasing integration of our energy, transportation, and cyber networks, which, coupled with the human, or communication network, is giving rise to a new level of complexity in connected communities. Progress in pervasive sensing brings an unprecedented volume of data allowing us to observe, measure, and evaluate the transactions, performance, and efficiency of the critical infrastructures. Recent emergence and explosion of data from citizen sensors via social media and other cyber platforms provides a unique opportunity to understand and anticipate accessibility needs in future connected communities.
A fundamental obstacle in seizing this opportunity is our present lack of understanding of the interactions between vehicles, people, and infrastructure. Developing a novel science and technology is necessary to observe, measure, analyze, and model transportation, using a data-driven understanding of complex connected communities that are governed by both physical and behavioral sciences.